Is there more to Tron than Justin Sun? The questions on everyone lips. From my time using the Tron chain I can state the tech is good, it works. It's fast and cheap, but can it surpass the egotistical lead of Tron, Mr Sun himself. Not content with naming baby Trons, suns (1/10000000 of a Tron). Justin Sun, went on to add Jst token, "just"-swap and even the Sun token!

So is there any more to Tron than Justin? A quick look at Crypto Twitter and you wouldn't think so, as Justin continues a steady stream of Tweets, announcement of announcements and other updates. His feed is hounded by Eth maximalists and the all out Crypto FUD'ers between comments from the "Tron Army" . They say any publicity is good publicity, and Justin went out his way to prove this point in a widely circulated video, "Buy my Shitcoin" because it is "Ethereum killer"! Still one of the great moments of Crypto Twitter. Not letting it knock anything from Tron, Justin continued his push to world domination!

Is there more to Tron? What about Dapps?
Of course, there's a LOT more to Tron than just… Well Justin. The Tron Foundation has been growing upon its successes for a long time, even whilst fighting the constant wave of FUD. Most people who've tried Tron, stick with it. It's fast, it's cheap and it's effective. There are some amazing devs on the Tron chain who struggle to get the attention they deserve due to the overshadow of Justin Sun.

We've got a few more posts coming regarding some more in detail overviews of Dapps, however some worth noting before we go any further would be, Dappstats Dapp analytics. This Dapp analytics service launched on Tron with a staking contract for users to earn from iut's services. The first of it's kind.

Void and Frag Deflationary tokens, Tron Prime, V2x and T2x Defi and a magnitude of Casinos, many now multichain after launching on Tron. BetFury, Wink and 888Starz being the prime examples!
Tron and Justin Sun announce an announcement
Justin is King of announcements of announcements, and what better way to keep the Fomo alive! Every Tweet comes with a barrage of comments, like and retweets! Some call Justin the marketing extraordinaire, others, well my mother used to say "if you've nothing nice to say, just say nothing at all", so we'll leave it at that.

Justin's most recent announcement of an announcement, announced the announcement of Defi staking coming to Tron. Following on from the raging success on Ethereum and the stiff competition from the recently launched Binance Smart chain, Justin is looking to get Tron to the forefront of Defi Staking. Pushing the 10m Defi "hackathon", Tron looks set to take the Defi world by storm. With cheap (or even free) almost instantaneous transactions it's hard to find another network as suited to Defi.

Tron foundation are soon to launch their very own Defi, building on the success of JustLend, Tron will push their "Tron Century Mining" Event. 5 in 1 rewards, with no risk? Find out more from Justin:


Is there any Defi Already on Tron?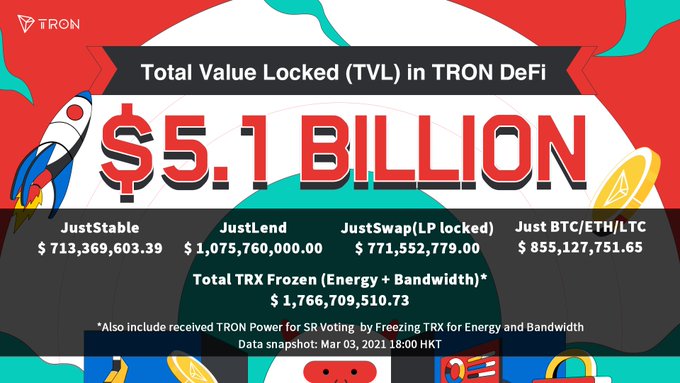 Further to my previous Tron article Tron Staking: Where to begin, Justin Sun has been pushing hard to increase the amount of Defi projects. Tron Foundation projects such at Justlend and JustSwap have locked a lot of Tron into "liquidity" pools and is "locked" off the network.

There's also a few underrated Tron Defi projects coming out from underrecognized Devs. Although the Tron Foundation launching projects give the overall sense of "security" to most users, many of the smaller undervalued projects have much more potential and are actually better developed. We'll dive more into them in an upcoming article. Or hop back to the Tron staking article now for a short overview!

So, is there more to Tron?
Tron has made many acquisitions over the years, from Bittorrent to Dlive, Justin has continuously added more to his inventory. However all these projects fall under the development of the Tron foundation and don't leave room for the "little guy" to develop. Tron's acquisition of Steem caused a lot of waves in the space and inevitably caused the fork into Hive for some looking for a more "decentralised" experience. While Tron takes some massive leaps forward with these projects, it pushed further away from the "decentralised" aspect of Crypto.

Projects such as Wink casino have helped and hindered Tron progression. One saving grace could be the addition of Tron payments at PornHub. That's one way to get rid of your "shitcoin". This is an avenue Justin always pushed towards with his Cryptocurrency.
Finally, we need to mention Tron NFTs. Justin Sun announced:
Justin Announced the new NFT protocol at the end of 2020. However the NFT scene still hasn't made it's way to Tron. There's a few smaller devs looking into building NFTs or incorporating them into their Dapps but for now we'll leave a pin in it and check them out in a couple of months. Know of any Tron NFTs that I might be missing? Leave a comment below!

In conclusion
There's many good projects on Tron, the chain is fast and effective. However the "little" guys tend to get overlooked due to the dominance of Tron foundation projects. Projects such as Dappstats have grown and flourished on the Tron blockchain, giving users a steady pay-out for over a year. Paying better than most SRs Dappstats has proven time and again it's a major competitor in the Dapp analytics space.

The Tron token value has always seemed undervalued, never really catching the spark in bull runs it lags behind it's competitors. Most people seem to blame Justin Sun for this, his image has slowed the adoption of Tron for a lot of people. Maybe investors are put off from even trying Tron due to the nature of Justin's social media presence. Will people eventually come to Tron for the tech, or will other chains steal all the thunder? All this sloth knows is he's been using Tron for a couple years without issue now and I'm excited to see where the next evolution of Tron takes us. #LTSArmy!